What you will get with this 4-Week Workshop Series
Begins Thursday February 3rd 2022 at 10am MST/12pm ET
People are an organization's most important asset and as such their approach, mindset, and daily practices should not be left up to chance. This requires paying purposeful attention to hiring, onboarding, development practices and succession practices across your organization. To be successful, organizations must intentionally create alignment between who they hire with what they are tasked to do, how they develop their skills, and how they plan for their growth and future to maximize staff potential and deliver results. This process of aligning people processes to support your organizational vision and mission provides creates an efficient and effective, people-led system to reach your organizational goals. During this 4-week workshop series, participants will:
Explore where the most common people challenges stem from and what you can do
Identify how to purposefully select staff to optimize your organization's culture and maximize results
Understand the drivers of staff development and the importance of practice, feedback, coaching and modeling
Explore the importance of a structured onboarding plan and identify ways to better align the process your organizational goals
Build your bench by creating a comprehensive succession plan
In this dynamic, virtual learning environment, you'll get everything you need to start addressing effective implementation in your work! Each week will include a 90-minute live Zoom session where we will dive deep into concepts of the 5 Dynamics of Effective Implementation™ as well as webinars and homework activities that you can complete at the time of your choosing. Each workshop series is complete with the concepts, tools, and strategies that you can immediately apply in your work. Be prepared to try these out in practice and bring your experiences back to the live sessions to discuss.
The 90-minute live sessions will be facilitated on Zoom. To get the most out of this learning experience, you will need a computer that has video and audio capabilities. You can expect approximately 3 hours of commitment to the workshops each week which includes the live session, webinars and homework activities. While you will be able to complete the webinars and homework activities during the times that work best for you, make sure to check out the schedule for the 90-minute live sessions and mark these dates/times on your calendar! Live sessions will not be recorded or distributed so pick the workshop series that works for your schedule.
Two weeks prior to the first live session, the registered participant will receive an email from ACJI Staff with the credentials to log in to the virtual platform. Please note that tickets are non-refundable however if a situation arises in which you are no longer able to attend on these dates, your ticket can be transferred to a future class. Please contact info@acji.org for more details.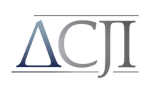 The 4-Week
Workshop Series Agenda for Live Sessions
Choosing the Right People
Staff Selection & Hiring
Thursday February 3rd 2022
10am MST/12pm ET
Onboarding
Engagement Strategies
Thursday February 10th 2022
10am MST/12pm ET
Developing People & Succession
Building your Bench
Thursday February 17th 2022
10am MST/12pm ET
Bringing it All Together
What's the Plan?
Thursday February 24th 2022
10am MST/12pm ET
A Typical Week in the Workshop Series
The Mixed-Method Learning Approach
The Pillars Workshop Series applies a mixed-method learning approach. As a participant, you will be exposed to different methods to learn and apply the material. Each method is equally important to augment didactic instruction with live group dialogue, practical exercises, case studies, and application of specific ACJI tools. A typical week in the virtual workshop series consists of the following events and learning approaches. Each week is approximately 3 hours of live and self-paced work.
Live 90-minute integrative instruction and dialogue with ACJI Facilitators and other participants (e.g. break out groups and small teams)
Pre-recorded video instruction (e.g webinars) on the virtual classroom platform.
SELF-PACED
LEARNING
ASSIGNMENTS

Weekly homework assignments to apply the principles and tools such as case studies, reflection exercises, and application of ACJI tools
Weekly activities on the virtual classroom platform to exchange your learning and experiences with other leaders in the class