FREE ONLINE RECORDINGS FOR COMMUNITY AND CRIMINAL JUSTICE LEADERS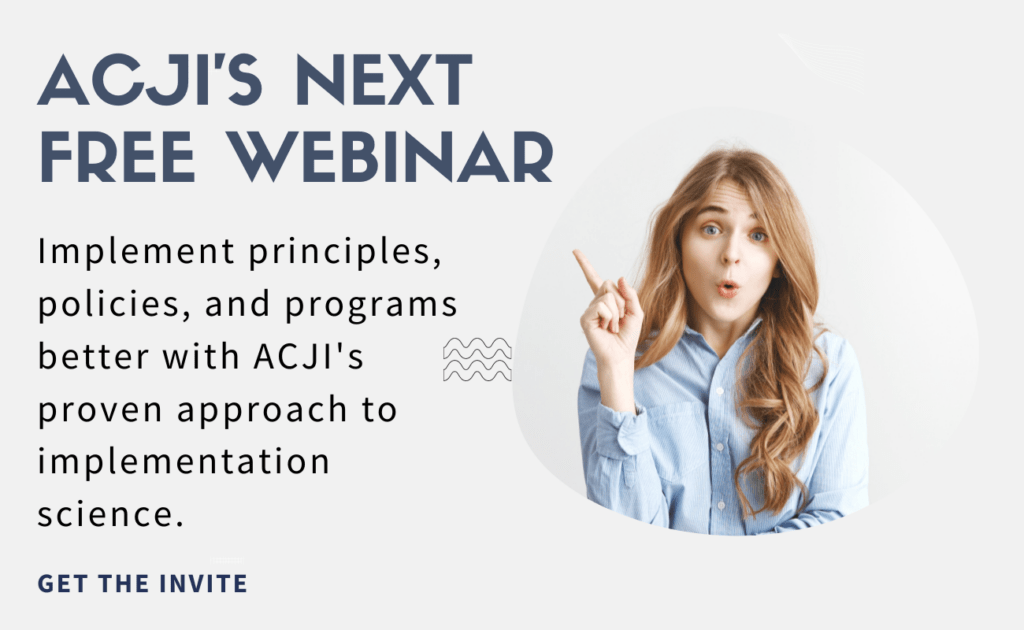 ACJI hosts free webinars periodically for those working in the justice and community-led reentry fields. To get notified when the registration is live for our next webinar, fill out the form below. We also welcome your suggestions for webinar topics.
HOW TO AVOID MINDSET TRAPS
Criminal legal system leaders and innovators are invited to join Dr. Alexandra Walker on Tuesday, November 28, 2023, at 11:00 a.m. Mountain Time for a FREE webinar on mindset traps – those unhelpful thoughts that get in the way of change.
Registered attendees will receive ACJI's new, four-step framework that we launched at our recent Implementation Leadership Summit. This guide is not a checklist, but it is a game-changer. It will help you identify and navigate mindset traps (which are also adaptive challenges) that commonly show up in implementation settings.
There is no cost to attend this webinar. Please register on Zoom by clicking the button below.
In this free webinar from ACJI, we talk about how to untangle the lies you tell yourself when leading in volatile, uncertain, and ambiguous environments. Whether you work in the justice sector or not, we all experience stress and understanding VUCA can make a big difference.
REQUEST VUCA MATERIALS HERE
YOU CAN'T READ THE LABEL FROM INSIDE THE JAR
ACJI's own Glenn Tapia lays it out clearly in this webinar on how organizational change efforts typically work in justice agencies. In the video, he also tells you how to do it differently…for the better.
REQUEST 'INSIDE THE JAR' WEBINAR MATERIALS
ORGANIZATIONAL CULTURE'S IMPACT ON IMPLEMENTATION
This webinar explores how organizational culture impacts your ability to create sustainable and meaningful change in the justice system.
REQUEST 'CULTURE IS KING' WEBINAR MATERIALS