FREE ONLINE RECORDINGS FOR COMMUNITY AND CRIMINAL JUSTICE LEADERS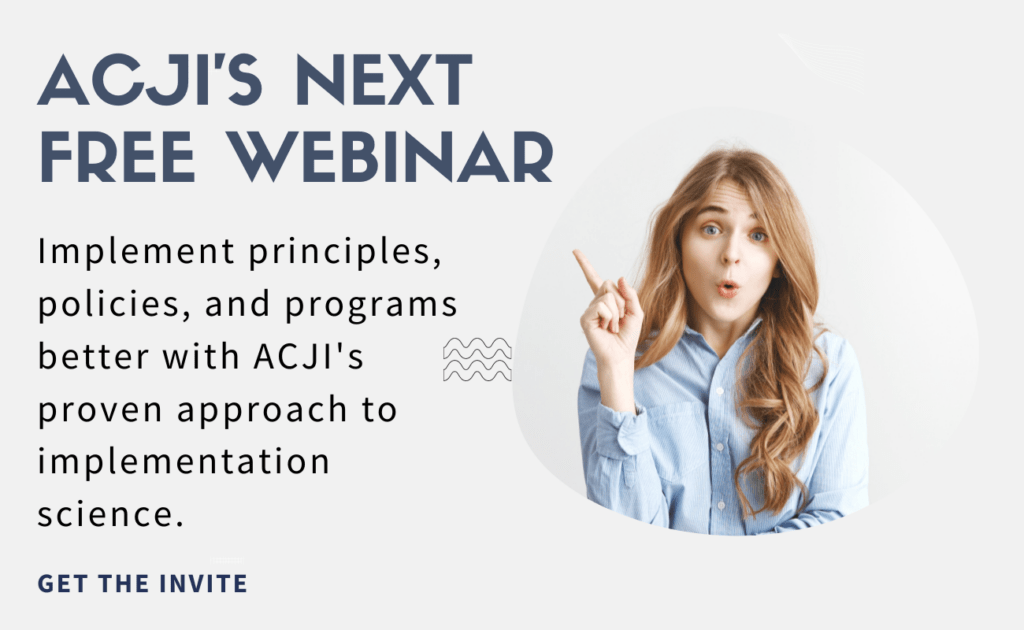 ACJI hosts free webinars every few months. To get notified when the registration is live for our next one, fill out the form below. We also welcome your suggestions for webinar topics.
UNTANGLING THE LIES WE TELL OURSELVES WHEN LEADING IN VOLATILE, UNCERTAIN, COMPLEX, AND AMBIGUOUS ENVIRONMENTS.
REQUEST VUCA MATERIALS HERE
YOU CAN'T READ THE LABEL FROM INSIDE THE JAR
GET THE 10 DISRUPTIVE TRUTH BOMBS ABOUT CRIMINOLOGY, IMPLEMENTATION SCIENCE, AND REAL-WORLD ORGANIZATIONAL CHANGE.
REQUEST 'INSIDE THE JAR' WEBINAR MATERIALS
INTRODUCTION TO THE 5 DYNAMICS OF EFFECTIVE IMPLEMENTATION
WHAT YOU NEED TO KNOW ABOUT IMPLEMENTATION SCIENCE. GET THE STRATEGIES THAT HAVE PROVEN TO WORK IN COMMUNITY ORGS AND JUSTICE AGENCIES.
REQUEST '5 DYNAMICS' WEBINAR MATERIALS
ORGANIZATIONAL CULTURE'S IMPACT ON IMPLEMENTATION
EXPLORE HOW ORGANIZATIONAL CULTURE IMPACTS OUR ABILITY TO CREATE SUSTAINABLE AND MEANINGFUL CHANGE IN THE JUSTICE SYSTEM.
REQUEST 'CULTURE IS KING' WEBINAR MATERIALS