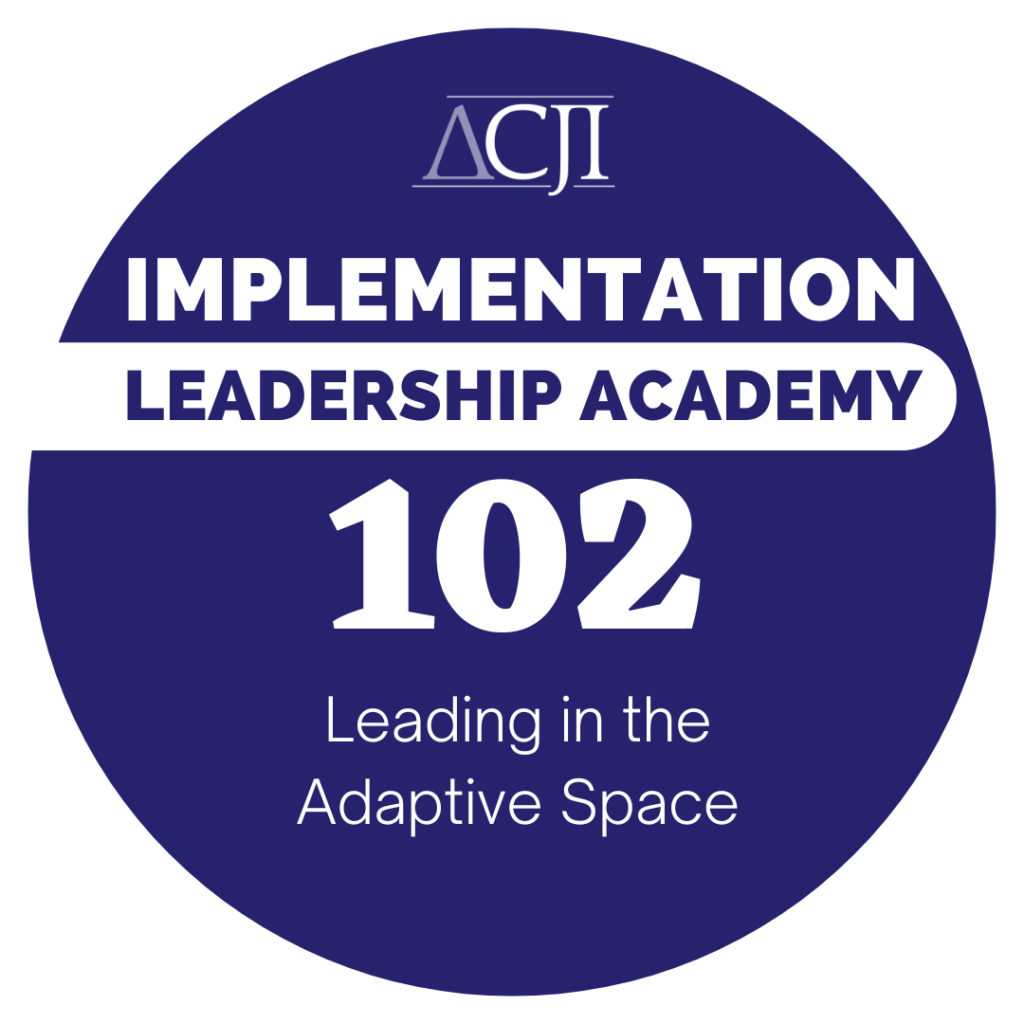 Start date: January 10, 2024
Adaptive problems are complex challenges that require individuals and systems to change their mindsets, behaviors and approaches in response to evolving and uncertain circumstances. This 8-week series supports justice system leaders in navigating the complexity of adaptive challenges. Get ready to explore how to identify, diagnose, and solve adaptive problems through the application of 7 strategies and tools.
By participating you'll receive:
1:1 coaching session to clarify and advance your adaptive leadership challenge and goal
Weekly, reflective 1:1 journaling with an ACJI coach
Applied tools and strategies to identify, diagnose, and address adaptive challenges
Opportunity to work in a cohort and build a network of support from leaders across the country
This course is only open to those who have completed ACJI's Implementation Leadership Academy. If you haven't yet attended the Academy, you can learn more here.
In this follow-up program, you will engage in a similar format as the Implementation Leadership Academy (eight weeks, virtual, multimodal learning, and collaborative), but the content is more advanced and tailored to break down adaptive challenges.
While you will be able to complete the webinars and homework activities during times that work best for you, make sure to check out the schedule for the 90-minute live Zoom sessions and mark these dates/times on your calendar! Live sessions are interactive with a focus on discussion with your cohort members and the ACJI team.
A typical week in ILA 102: Leading in the Adaptive Space will take about three hours of your time to complete journaling, homework, and the live session. Two weeks prior to the first live session, registered participants will receive an email from ACJI staff with the credentials to log in to the virtual platform. Please note that purchases are non-refundable, but if a situation arises where you are unable to attend on these dates, you can attend a future class. Please contact info@acji.org to arrange a transfer.
SESSION 1:
EMBRACE THE ADAPTIVE SPACE
January 10, 2024
11am-12:30pm CT
SESSION 2:
APPLY AN APPRECIATIVE LENS
January 17, 2024
11am-12:30pm CT
SESSION 3:
COHORT WEEK +
1:1 COACHING SESSION
SESSION 4:
DEVELOP YOURSELF AND OTHERS
January 31, 2024
11am-12:30pm CT
SESSION 5:
MAXIMIZE YOUR ATTENTION
February 7, 2024
11am-12:30pm CT
SESSION 6:
HAVING ADAPATIVE CONVERSATIONS
February 14, 2024
11am-12:30pm CT
SESSION 8:
EXPERIMENT WITH GRACE
February 28, 2024
11am-12:30pm CT
Live 90-minute interactive instruction and dialogue with ACJI facilitators and your small team
Pre-recorded video instruction supports live session material
Homework, such as reflection exercises and working through ACJI tools, reinforces principles
One-time, one:one coaching session with an ACJI coach to explore course materials as it relates to your specific adaptive challenges
Introspective journaling reinforces Leadership Climate Control concepts and helps to shift your leadership mindset
Weekly activities on the virtual classroom platform allow you to share your learnings with others in the class