Needs And Strengths Assessments: A Different Approach For Community-Based Reentry
September 6, 2023 – As more resources are directed toward community organizations to provide reentry services, there is increasing demand for assessment tools to drive programming. Many community reentry organizations are turning to actuarial risk assessments such as the Level of Service (LSI), Ohio Risk Assessment System (ORAS), or Correctional Offender Management Profiling for Alternative Sanctions (Compas) as part of their case management workflow, as a requirement from a grantor, or out of a lack of better alternatives.
By the way, an "actuarial risk assessment" refers to a research-backed method of predicting risk. It is an approach used in a variety of areas and industries, not only programs with a focus on mental health.
While actuarial risk assessments are helpful for supervision agencies with training, tools, and interventions geared at reducing risk, they pose some obvious and not-so-obvious challenges for community-based organizations. For instance, community-led reentry organizations may have 
A lack of financial resources to pay for assessments
Minimal capacity for training to implement these assessments well
An underlying misalignment between the purpose of risk assessments and the purpose of the reentry program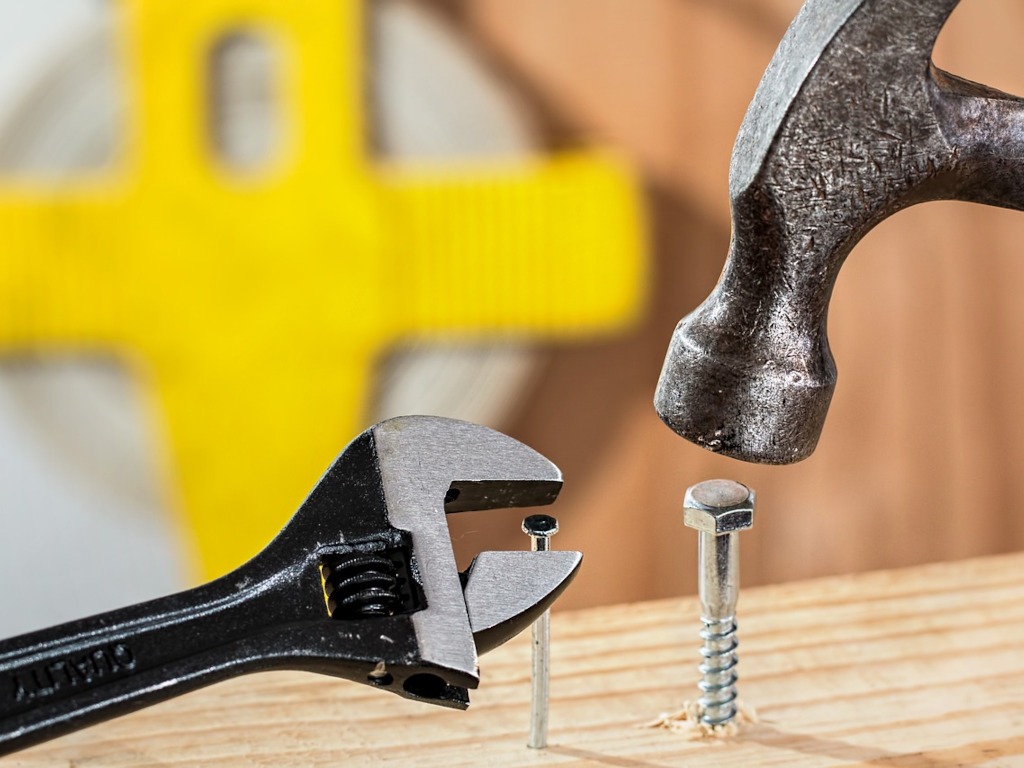 Actuarial Risk Assessments Are Often The Wrong Tool For The Job In Reentry
Supervision agencies exist to reduce risk and to supervise. While many are trying to reinvent and expand the role officers play in the reentry process, interventions exist to address risk reduction.
Community organizations, on the other hand, exist in large part to address the complex experience of what it means to rebuild a life, repair relationships, acknowledge wounds, heal trauma, and find meaningful employment. This work requires more than a risk assessment can provide.
Community reentry program staff, many with lived experience, start with relationship building and supportive alliance as the very first intervention. Building a supportive alliance requires understanding that people are experts on themselves and understand what works best for them and what they need.  Actuarial risk assessments pose a major alignment challenge for community reentry staff with the distance and power dynamic the questions inherently create. 
ACJI has worked with a variety of community reentry organizations to employ different needs assessment methods, including the Inside-Out Change Method depicted in this image.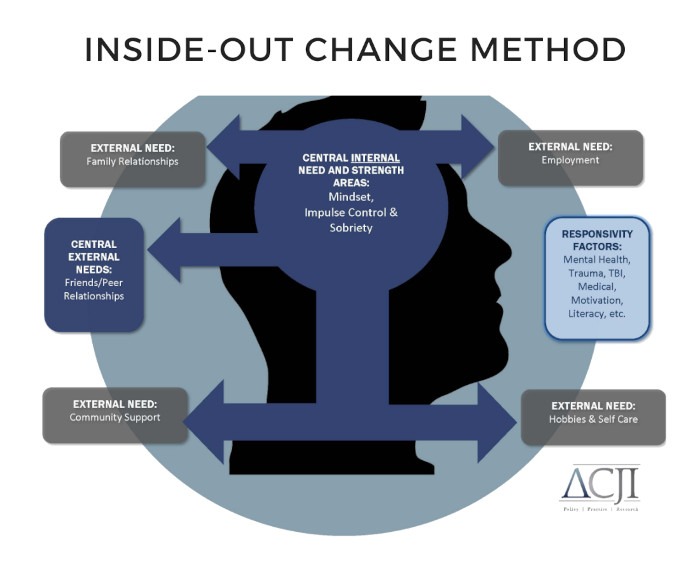 Using an assessment that applies an Inside-Out Method of addressing needs and strengths is critical in the reentry equation.
The Right Assessment Tool For Community Reentry
Community organizations need different assessment tools that open authentic conversations about 
where someone has struggled
where they might get in their own way
what has helped them succeed or overcome adversity in the past
what's most important to them in the future
Community-based reentry staff need tools that address the stabilization and responsivity needs of people more than actuarial risk assessment can provide. These organizations are on the front line providing emergency support and resources to stabilize people so they can have enough psychological safety and bandwidth to address goal setting and planning in the first place. 
An important side note, and one that is often left out of the conversation, is the body of science suggesting that stabilization factors can present as criminogenic risk, with plenty of evidence that the effects of scarcity and poverty on our bodies and brains can impact cognitive capacity in ways that show up in decision-making, impulse control, attention, memory, planning, and other executive functions. 
A needs and strengths tool such as the Individualized Needs and Strengths Inventory Tool (INSIT) puts responsivity factors at the forefront of reentry case management and creates opportunities for community programs to apply person-centered case management tools in alignment with their organization's mission, vision, and purpose.
ACJI has worked with reentry orgs to use the INSIT with great success. This evaluation summary from our friends at Strategy & Evaluation, LLC, further highlights the needs assessment and how it effectively identifies areas a participant needs support. 
Plus, the ACJI team put together this video on the INSIT a few years back, and the information still holds true in 2023.
In Conclusion
The needs assessment conversation, in mental health generally and in reentry specifically, is a large one. Here at ACJI, we continue to explore the ways these tools can lead to more impactful change.
In fact, ACJI has worked with community-based organizations using the INSIT since 2018 and is currently running a beta assessment program in the justice sector. We hope to have an off-the-shelf offering sometime in 2024. To learn more when that offering is announced, share your info using this form.
RECEIVE INSIT PROGRAM INFO WHEN IT BECOMES AVAILABLE