Appreciative Thinking In Times Of Crisis
October 30, 2023 – This article is a revised version of what was originally written in March 2020 by Dr. Alexandra Walker and Glenn Tapia and posted to LinkedIn here. The original article included an invitation to a live Zoom webinar. The recording of the webinar is embedded at the end of this article. 
The Early Days Of COVID
The first few weeks of the COVID-19 pandemic placed us all squarely in uncertainty, an uncomfortable spot for humans who generally don't like change. 
In the most bizarre way, we were flooded with information yet still lacked information. We struggled with the pressures of remote work, canceled events, internet crashes, social isolation, and being responsible for new and different tasks. For those of us working in justice fields and community reentry, we worried for the essential workers who had to put themselves at risk for their jobs and people they served. We worried about those living in correctional, residential, and healthcare facilities. 
To support our colleagues and friends enduring the crisis, the ACJI team put together this synopsis of appreciative thinking that we had already formulated through our work consulting with justice agencies and reentry organizations on change management.  While those early days of COVID are behind us, struggles are still bound to come up in life. We hope this information will be useful for you.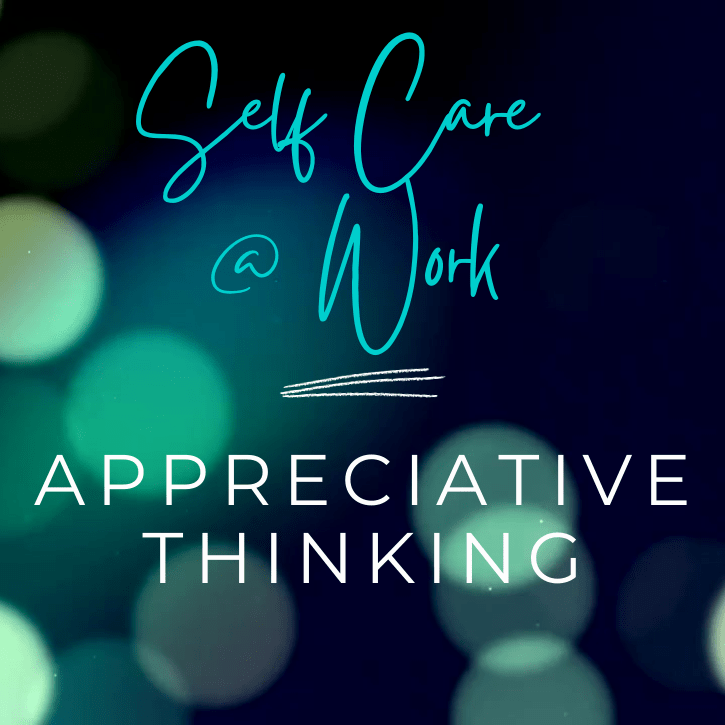 Announcing the "Appreciative Thinking" episode from ACJI's Self Care@Work video series. Stock up your learning library with microtechniques and tools from ACJI!  
Access the individual video by clicking here and learn more about the entire Learn@Work Suite on our website here.
Build mindset skills to reduce anxiety for yourself and your staff. Train your brain to think appreciatively.
First, Share What You Are Thinking And Feeling
It is helpful for the people around you to hear your honest feelings. In a situation like a pandemic – or any other crisis – humility goes a long way and plays an important role in reducing the anxiety of others.
There's a caveat, though. It's important to share what you are thinking and feeling but not overly so. You don't want to dwell on the negative after you've acknowledged it. That's where appreciative thinking comes in.
Sidenote: Once you master appreciative thinking, you can share your approach with those around you, too. The goal is for others to follow your lead and build a culture of appreciative thinking!
Second, Reframe Your Options
During a crisis, it's normal to focus on danger at the neglect of focusing on opportunity. You are hard wired to do it. You may try to fight against what presents danger or discomfort, but when you do that, you only focus on the very thing you don't want. It's a vicious circle.
To combat that natural tendency, think of a crisis as the intersection between danger and opportunity. At an intersection, you have choices. Which way will you go?
Brainstorm what the opportunities might be, especially in the areas of growth, connection, and learning. How could you experiment and adapt – even when you fail?
There's a teambuilding advantage to this intersection view, too. When faced with adversity, groups of all sizes – families, teams, communities, etc. – often come together and work together for the common cause. How might your team collectively innovate?
Third, Understand What Appreciative Thinking Really Means
Let's look at what appreciative thinking is not, which is neither depreciative nor neutral.
DEPRECIATIVE thinking focuses on negative aspects of a situation and often comes with the belief that change is unlikely or impossible.
NEUTRAL but supportive thinking focuses on things within your comfort zone. While you choose not to make the situation worse by focusing on the negative, you also aren't taking any risks to fix the situation.
Now for what it is!
The word "appreciative" has multiple meanings. In this context, we are talking about how something grows in value.
APPRECIATIVE thinking focuses on possibilities that exist outside of your comfort zone. This means you take calculated risks and experiment. You also:
Embrace the stance that we is better than me. Then you work together to create solutions.
Stay focused on the vision and take calculated risks to get there, even if you might not always get things right.
Learn from all efforts.
In other words, this is part of a growth mindset. Appreciative thinking is also integral to ACJI's approach to change, something rooted in Implementation Science.
Four, Master The Appreciative Mindset
Appreciative thinking is a skill that takes practice to do well, but once you have it mastered, it helps you break down situations into clear and distinctive mindset choices.
The following chart provides a few examples of how this works in practice.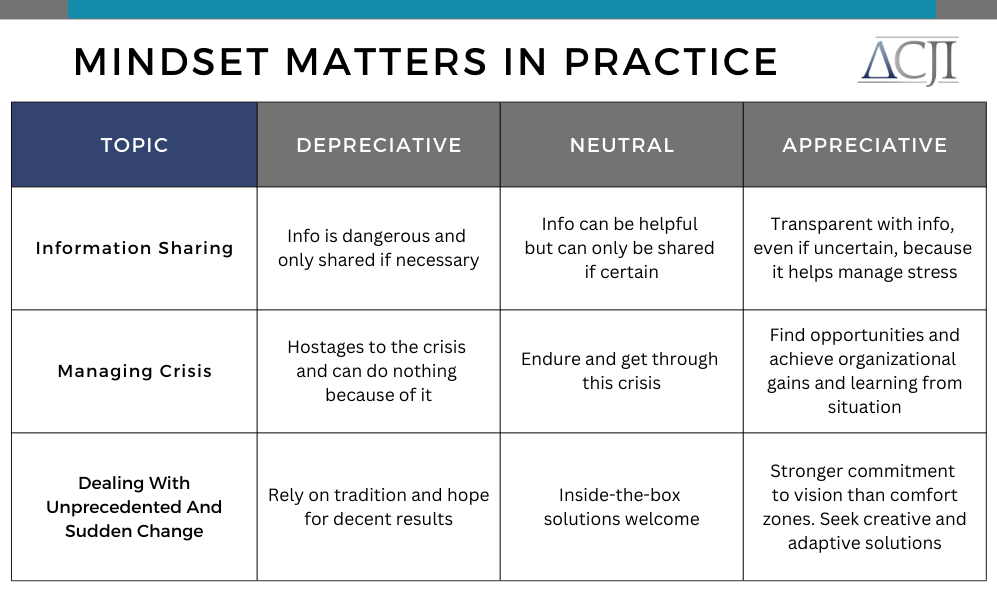 Most people default to either depreciative or neutral thinking. But now that you are aware there's actually a choice, make one. Choose to overide the default setting. We promise it'll get easier with time. 
Appreciative Thinking Webinar
As mentioned at the top of this page, the original version of this article included an invitation to a live webinar with Dr. Alexandra Walker. Here it is!
Want more webinars like these? Visit our website here to get notified of upcoming events. 
Keep in mind that the "Appreciative Thinking" episode of our Self Care@Work series includes some of the same information as in this webinar, but the Self Care@Work episode is not COVID-specific and presents info succinctly, making it easy to watch at any time with your clients and co-workers. Contact us to learn more about our Learn@Work video series that covers topics similar to Appreciative Thinking.
Frequently Asked Questions About Appreciative Thinking
How Do You Define Appreciative Thinking?
ACJI defines Appreciative Thinking as a mindset choice that focuses on opportunities, not barriers.
Is Appreciative Thinking The Same As Appreciative Inquiry?
Appreciative inquiry is a method for uncovering opportunities that is commonly used in organizational development. Appreciative thinking can be used in any scenario.
What Are Some Appreciative Thinking Examples?
At the start of this article we talked about how we wrote this article in the early days of COVID because we saw many of our colleagues struggling. Instead of jumping on the struggle bus, we saw an opportunity to host a webinar. Another example can be found in the chart above where we talk about information sharing. Here are a couple other examples of appreciative thinking: 
1. Redefining a staff member's job description based on their strengths. This allows them to focus their work in areas they will excel. 
2. Drying flowers instead of throwing them in the trash.