Change Resistance In Your Agency
November 28, 2022 – This article is part of a series of articles relating to ACJI's 10 Essential Principles of Implementation Leadership and ties closely to implementation leadership principle #4. If you're new here, take a look at our first article in the series on principle 1 to start.
In a previous blog post on ACJI.org covering ACJI's fourth implementation leadership principle, we talked about the difference between technical and adaptive problem-solving and what happens when you apply a technical solution to an adaptive problem. Here's a quick summary:
Technical Problem And Technical Solution: Straightforward, simple (e.g., all your pencils are broken so you sharpen them)
Adaptive Problem And Adaptive Solution: Abstract, complex (e.g., pencils are a necessary technology for the organization but people keep breaking them because they object to using pencils in the first place and prefer the old pens. So the implementation team arranges stakeholder meetings to address the underlying emotional and political issues against using pencils.)
Technical Problem With Adaptive Solution: MUTATION. Creates a lot of emphasis on something that could have been straightforward and simple (e.g., some staff members simply need training on the pencils but instead the management puts pencil use in staff performance improvement plans and obtains consultants to dig in deeper about the culture against pencils)
Adaptive Problem With Technical Solution: MUTATION. Creates more adaptive problems (e.g., management requires staff to do booster pencil training for 40 hours a year or face disciplinary action for not doing so. You overhear staff talking about how management is just making a name for themselves by pushing their pencil agenda and they reach out to pen supporters to start a campaign against pencils.)
The pencil example we are using here may be silly, but we hope it illustrates how adaptive and technical problems, when not identified correctly, can morph (or mutate) into bigger headaches, especially in areas of organizational culture.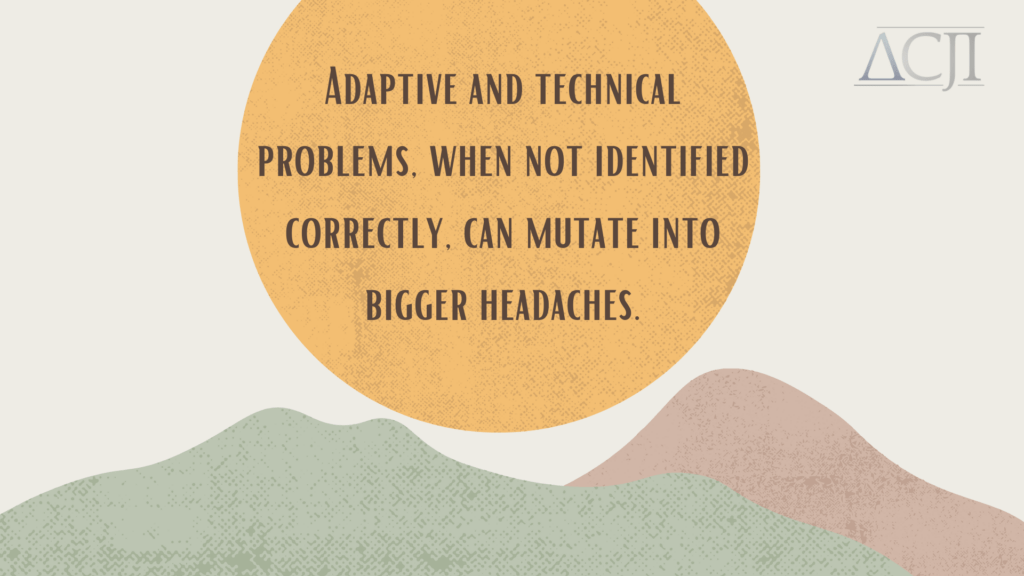 A Justice Agency Culture Problem Example
Let's say your agency leadership wants to adopt behavior change-oriented interventions, but there are still quite a few members of the organization who embrace traditional surveillance and supervision strategies.
Typical justice system strategies to address this type of organizational culture challenge could include:
Wait it out. You know, when you wait for the "problem" players to retire or resign.
Change the label but not the values underneath the job. Change job titles and descriptions to let staff know that their new role has changed.
Make structural changes to the organization chart. Restructure the hierarchy to shift managers and departments around.
Is any of this ringing a bell? This is a classic case of technical solutions applied to an adaptive problem. If one or more of the technical solutions are applied, the problem will mutate. It's likely that the agency's culture will become problematic, even toxic, and the best players will want to leave. Those who stay will become cynical, resistant, and untrusting. A maladaptive organizational culture will interfere with even the best-resourced initiatives.
Adaptive Solutions For The Challenge Of Change Resistance
A misaligned organizational culture is an adaptive challenge. It is hard to identify the root issue. It is highly complex and has no clear solution. Try to solve the problem with technical solutions and you'll only end up with more problems…like we've seen above. Apply adaptive solutions and you just might implement those new interventions successfully after all.
How can you change your message, training, and reinforcement strategies to find alignment?
Here's what ACJI suggests:
Start by creating an implementation team to do a deep diagnosis of your organizational culture; identify the habits and mindsets that make up your organization's day-to-day flow. How are these habits and mindsets helping or hindering your goals?
With leadership, hold one-on-one and large group dialogue sessions – both formal and informal – to talk about the elephant-in-the-room a/k/a the issues that inhibit cultural excellence.

Change leaders must be vulnerable throughout the process. These fragile talks with staff will move everyone toward healthy levels of discomfort, the space where problems can really be solved.

Take a look at your organizational rules – especially the unspoken ones. How do they align with the organizational culture that you are trying to create? Consider:

Are there rules that are only enforced when someone is in trouble?
Are there rules that are no longer relevant or that function as a CYA (a/k/a cover your ass!) but no one follows?

Consider what agreements you can make as an organization about how you treat, engage, and include one another. Be as specific as possible about what that looks like in practice and start modeling it and holding yourself accountable to it.
Learn in public, which is to say that if you stumble or miss the mark, you acknowledge that and discuss possible learning with the larger group.
Most of the agency leaders we work with want a to-do list to help them shift their organizational culture in one way or another. This is a very technical approach to a very adaptive problem. It is a mismatch of the adaptive problem-solving model and one that is sure to create its own problem mutation and downstream consequences.
We challenge you to take an adaptive mindset and deploy adaptive solutions.