Implementation Leadership Principle 7: Lead The Hearts And The Minds With The Why
August 10, 2023 – This article is one in a series of articles about ACJI's 10 Essential Principles of Implementation Leadership. If you're new here, take a look at our first article in the series on principle 1 to start.
Typical leadership approaches to change initiatives focus on the rules and procedures of innovation. A leadership approach that follows Implementation Science asks leaders to try something different — help their teams understand The Why behind a new or existing effort. This shifts the focus from rules to mindsets. 
Like Simon Sinek said, "People don't buy what you do. They buy why you do it." 
When you work in a justice agency or reentry organization you may not be selling products or services like salespeople in other industries, but you are selling ideas and new ways to do things.
Spend Time Up Front Selling 'The Why' Rather Than 'The What'
The reason for a change is The Why, which appeals to your intellectual and emotional reasoning. While The What speaks to technical skills, tactics, and procedures. Focusing on The What is not wrong. It's just not enough. 
To get buy-in from an Implementation Team, especially when you're asking people to do new or hard things, you must start with THE WHY.
Because…
Human beings make decisions about change at an emotional level. We are hard-wired to dislike change at the outset, and our thoughts about change are made in the cognitive brain, or frontal lobe.
The magnitude with which you agree or disagree with the change is determined in the emotional regulation center of the brain, the limbic system. For most humans, change is initially met with resistance from the cognitive brain, and then the limbic brain processes the magnitude of dislike based on feelings and emotion. 
While we like to think we are rational beings who are sometimes emotional, it's more accurate to say we are emotional beings who are sometimes rational.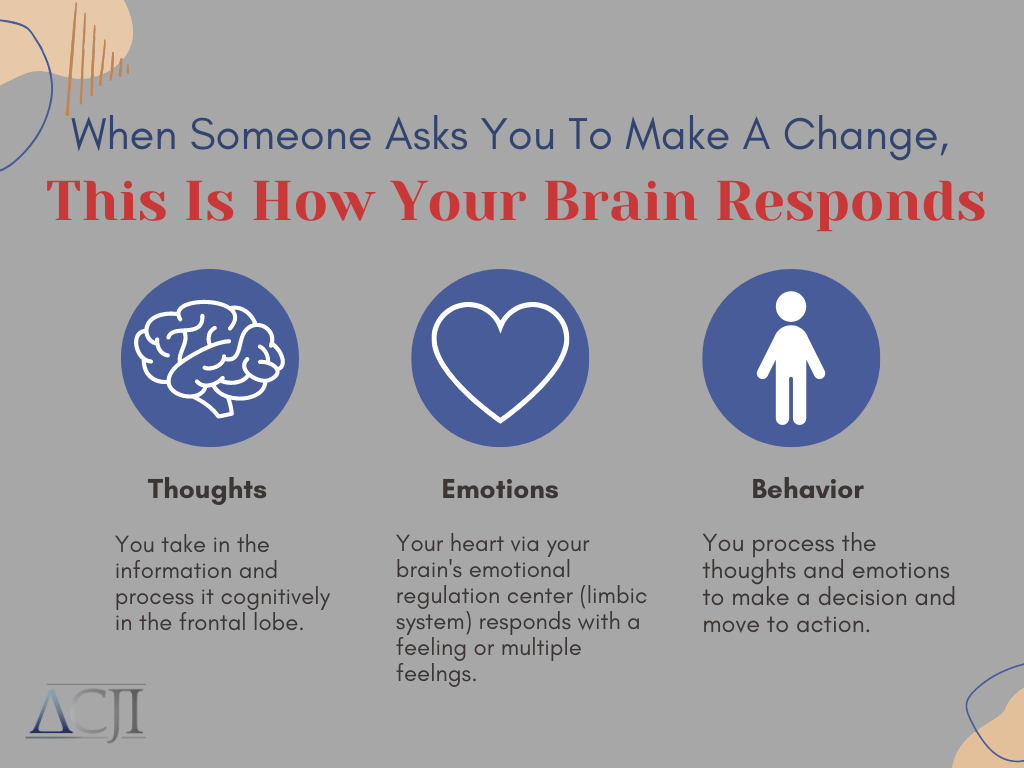 Change Is Exhilarating When Done By Us But Exhausting When Done To Us
When you start with The Why for a project or task, it allows you to tap into what is going on beneath the surface with the people on the team, even giving everyone a chance to align their personal Whys with the work—a valuable opportunity. With a focus on The Why, those who carry out change work are empowered to govern their own behavior, which liberates the leader from the burdens of governing individual behavior.
When people cannot connect what they are being asked to do, they disengage. Over time, this misalignment can 
create cynicism,
impact implementation efforts, and 
damage organizational culture.
Connecting what you ask people to do to their personal and organizational why creates a larger purpose and collective vision that every person can connect with.
As a leader, you are exposed to lots of information and ideas that could change outcomes for the better. As a result, you try to bring all those good ideas to the forefront as a way of better serving staff and clients. Unfortunately, not all good ideas are aligned with an organization's purpose, priorities, and capacity to grow.
Starting with The Why creates organizational alignment around your change efforts and can become a helpful anchor and shorthand when implementation gets tricky, which it always does.
If you are in a leadership position with the criminal legal system, learn more about the 10 Essential Principles of Implementation Leadership in ACJI's upcoming Academy where we talk about all 10 of the principles in much more depth.